the creative minds behind the caterpillar story acknowledge the special albeit involuntary participation of...
haniko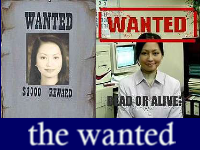 a.k.a the wanted
the schizophrenic. the political analyst-slash-would-be-lawyer with a thousand and one aliases. the grudge that came to life. the mad cow disease-infected. the tongue on fire. angel and devil rolled into one. the bayot from pluto. the CEO (chief executive officer) of CSI (cynical singles, incorporated). the brain behind hello billy, the story you thought you knew. the reason behind the grand plan of putting up an overpass connecting philcoa and cagayan de oro.
tricky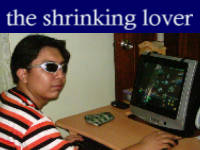 a.k.a. the shrinking lover
everybody's friend, nobody's lover. mr. congeniality. the breathing and walking community calendar. the businessman. the troubleshooter. the drunken master.
janjan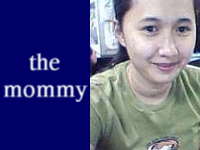 a.k.a. the mommy
the wanted's mommy and long lost sister (go figure!). the geemail's lola. the caterpillar's once-upon-a-time seatmate and storyteller. the voracious reader.
toshio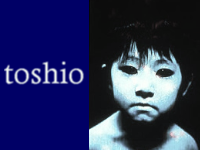 a.k.a. the borax-faced boy
little boy blue. the cute and not-so-freaky boy ghost in ju-on a.k.a. the grudge.
kayako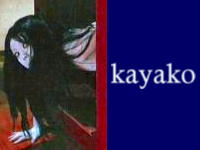 a.k.a. the crawling ghost
the freaky white-faced, bloodied mother of toshio. also of the ju-on a.k.a. the grudge fame.
so-hee and jin-sung
a.k.a. the ballerinas
the not-even-death-can-separate-them schoolgirls. the best friends. the wishing stairs beauties: so-hee, the dead super ballerina and jin-sung, the second-rate trying hard ballerina. the original cast's weird partymates last february 14.
achilles & hector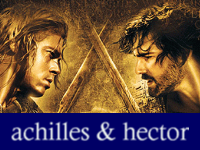 a.k.a the demi-god and the prince.
the envy of puss in boots. hehehe.
walang kokontra
.
the ugly bolo & the yellow ribbon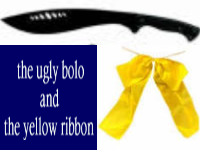 a.k.a the assassin's weapon of choice
and the vain victim's decoration request
the assassin's "ugly-looking bolo" and imelda marcos' suggestion of tying a yellow ribbon as a means of making the ugly bolo look presentable: the volcano and the caterpillar's favorite joke from the documentary, imelda.
the sticky floors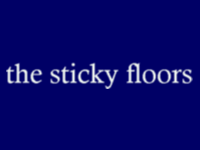 a.k.a. the peek and scream venue
can be simply described as: any of those moviehouses in *toot* *toot* with sticky floors. (the floors are sticky because of who knows what! hehehe.)