I still get wildly enthusiastic about little things....

I play with leaves. I skip down the street
and run against the wind.
-- Leo Buscaglia
this post is inspired by weng, my former roommate. this is one of the off-shoots of our e-mail exchanges which revolve on the theme,
five things
. we're trying to answer five questions or share five things per e-mail so we can be updated on how we are doing and continue getting to know each other despite the physical distance.
let me share...
#1 What is it that you like seeing?
>> natural green: grass, trees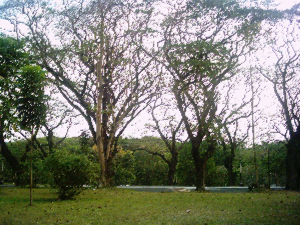 i like the canopies of acacia trees around the UP acad oval

>> friends (not the tv show, but MY friends!)
haniko's trio of witches:
thin, thinner, and the thin line
the caterpillar, the geeemail and the volcano
mga na-trauma
sa duranta...
mga isinuka ng begonia?
#2 What smell do you love most?
>> newly-cut grass (i love the smell of coffee, too...i just don't drink coffee, hahaha!)
#3 What is it that you love to taste?
>> green mangoes. (i like 'em small and sour.
nam. nam. nam.
)
#4 What is it that you like to hear?
>> sea waves, real birds a-chirping, my phone's message alert tone (hahaha!) and senti songs that either make hearts want to fly or die
>> people saying i have an unread message on my phone even if there's none. (apparently, many would always confuse my screensaver with the message alert indicator. how nice!)
#5 What is it that you like to touch?
>> hair (
sa ulo ha!
it doesn't matter if the hair's not mine,
basta
hair
sa ulo
. hehehe.)
>> my voodoo toys? (bwahahaha! hey, i'm only joking.)
meet voodoo boy and voodoo girl.
they are harmless. promise.