When you are sorrowful look again in your heart,
and you shall see that in truth you are weeping
for that which has been your delight.
--Kahlil Gibran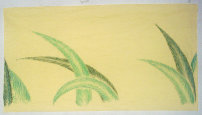 remember this?
somebody ripped it off my wall. i don't know where the big piece is now and i don't wanna go looking for it -- i'm trying to avoid more pain. most likely it's in one of those big trash bins, crumpled and torn. i imagine it must have been carelessly thrown away... in the same manner that it was torn off as indicated by the bits of yellow crepe paper left on the wall.
the one who ripped it off didn't know how much i valued what was taken. if only the person had known, if only i had known beforehand my work's fate... perhaps it could have been saved.
it's beyond saving now.
when i realized it was gone and saw the torn yellow bits stuck on the wall, anger welled up in me and i thought i was going to explode. i did not. the more i looked at the yellow bits, the more i was made aware of my loss and i just wanted to cry.
gawa ko 'yon eh, pinaghirapan ko 'yon... tapos..
. argh! i didn't cry -- i stopped myself from doing so because i didn't want my roommate to see me crying. heck, i can talk about crying but i don't want anyone to see me crying. as i've said, i didn't cry... 'though i wanted to.
i didn't cry but i felt defeated. i only had 1.5 hours of sleep in the last 36 hours and i got back to my room tired... and what was there waiting to greet me?
not warmth but the empty wall.
the absence of a symbol of comfort and something personally valuable and irreplaceable.
another embrace from the feeling of loss.
the latest addition to my piled up frustrations and blues.
-¤-
finding meme oh!
i got tagged by the
trickmeister
and in the spirit of friendship and blog-citizenship, i'm gonna do this 23/5 thing...
So, here are the instructions:
1. Go to your archives.
2. Find your 23rd post.
3. Post the fifth sentence or closest to it.
4. Post the text of the sentence in your blog with these instructions.
5. Tag five other people to do the same thing.
my 23rd post is
time travel
-- posted last year on the 27th day of august. the 5th sentence of the said post is '5 years ago, i was a college freshie and was finally free from wearing uniforms!'
ngeork.
if you're game for this, you're IT!