"We must remain as close to the flowers, the grass, and the butterflies as the child is who is not yet so much taller than they are... Whoever would partake of all good things must understand how to be small at times."
--Friedrich Nietzsche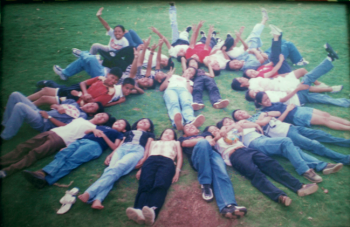 remember high school? it was fun!
sometime in march 1999, we went to ditucalan for choir practice. what choir practice? we went to a place where the roads were good for biking and the playground had swings, see-saws, slides, and nice green grass. the day was meant for having fun and the place was right. yoni climbed up a slide and took this picture of us -- rho99 during a pre-graduation class bonding... in ditucalan.
despite its distance from the city proper of iligan, ids99's sci-curr people loved having practice sessions (for basketball, for filipino drama, etc.) in ditucalan. not only did we find the place nice and conducive for spur-of-the-moment adventures, our classmates from there're also very hospitable. heehee.
note: the picture above reminds me of the importance of tripods and self-timers. without them, someone has to sacrifice not being in the group pic. most of the time, that someone is the owner of the camera.