"If you wish success in life, make perseverance your bosom friend, experience your wise counselor, caution your elder brother and hope your guardian genius." --Joseph Addison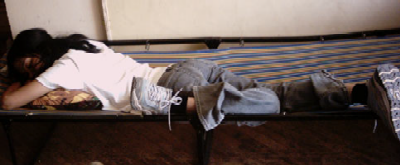 one of my fabled yoga-sleeping-positions: a closer look
i don't know what's with me lately, but i have a hunch. i've ruled out pre-menstrual syndrome, so this must be
the caterpillar syndrome
: i've been feeling lazy and always hungry even when i eat. i'm being deliberately baaaaaaaaaad, too. just a while ago, i picked on some people who unfortunately irked me. in fact, i was anticipating war and was even feeling enthusiastic at the mere thought of it. argh. life... i'm really cursed with a not-so-nice (read: n-a-s-t-y) temper! why am i having a hard time with it? and i thought i was succeeding at trying to grow up. tsk. cold water! cold water!
the silence is killing me. i need to be inspired so i can write and write and write.
i guess i have to go now. i must... before i wreak havoc in my own blog.