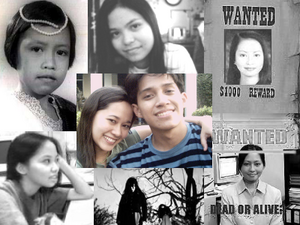 "from the jungles of IDS to the canopies of acacia trees in diliman...
a tale of intrigue, passion, and epic proportions (hahahaha)...

THE CATERPILLAR STORY (the delayed and long-awaited chronicles of the little prince, the rose, the entity, the volcano, the geemail, and the grudge...but always the talkative caterpillar)"
--http://kinilaw.blogdrive.com
egad! epic proportions?! now i have to come up with a story that will live up to that pitch. poor me. poor little me.
p.s. (1) belated happy 6th monthsary to the entity. (2) maybe i should forget about writing the caterpillar story with epic proportions and just strangle sealdi. (3) no, i should not. the world needs her. (4) i used pictures of the mad cow a.k.a the grudge without her consent; i'm baaaaaaaaaadd.