number 1
a.k.a. the note
when i got back to my room in front of the kitchen last night, i saw the note my roommate left for me on top of my laptop, and it said:
interesting day today:

1. I went to this place that feels like the end of the world:
- it smells like garbage + pigshit
- no water source at all

2. my P1000 girbaud bag got slashed by a bastard, in a campus jeep ha! it's a good thing my bag has a lining so he wasn't able to get my phone + wallet. I confronted him! but my favorite bag is ruined! waaa. (story on Tuesday *smiles*)
roommate is in los baños. she spends her weekends there. so, the blow by blow account of her interesting saturday would have to wait until tuesday, when she gets back. knowing her, items #1 and #2 mentioned on her note would definitely be interesting(!) to hear about. sheesh. i can't wait.
i'm wondering what place she is talking about in item #1. she's been to places like payatas as part of her previous work, but she has never said anything like that about the places she's been to. she talks about the people though. hmmmm...where could that place be this time?
item #2 is quite alarming, and i have three reasons why (aside from the fact that we're talking about her favorite bag). first, because it happened in a campus jeep! second, because my roommate couldn't afford to lose her cellular phone nor her wallet. not now. third, because it happened on a weekend. hehehe... the third has something to do with "our" twisted way of thinking about murphy's law working on "us" during weekends (so, you can just overlook that, thanks).
-¤-
number 2
a.k.a. the eyes
as planned, i went to the optical clinic yesterday to have my eyes checked. check up results say that the blurry sight of street lights and stuff last september 22 was due to a -500 vision-impaired left eye and a -275 defective right eye. hehehe, i think i'm going blind (
ay! wag naman po sana!
i'm just trying to appease myself the wicked way *winks*).
as usual, the doctor told me that due to the imbalance (read: the discrepancy between 500 and 275, tsk tsk), she couldn't prescribe lenses that could fully correct my vision. i would have to settle for a -350 lens on my left and a -225 lens on my right. otherwise, i would still be seeing oh so poorly: no better choice between blurred and double vision. well, it's just okay with me, i'm used to hearing such kind of stuff; it's the same thing the eye doctor in iligan told me eons ago.
-¤-
number 3
a.k.a. the plug
the 2004 search for the ten outstanding students of the philippines (TOSP) will be on october 14 to october 21.
TOSP is an annual search that is aimed at recognizing filipino students who can be held as role models for others: students who exemplify academic excellence, exemplary leadership, good moral values, and determination to serve. 30 national finalists coming from all over the country will be brought together for a formation process focused on team and community building that will harness their potential to be catalysts for action and involvement.
celebrate... affirm... inspire...
some pictures taken during the 2003 search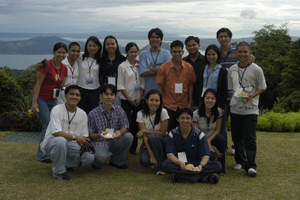 during a break in the formation program at balai taal, tagaytay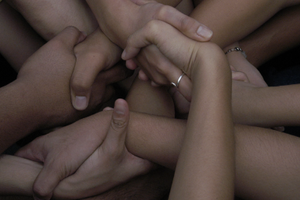 whose hands are being held by whom's hands?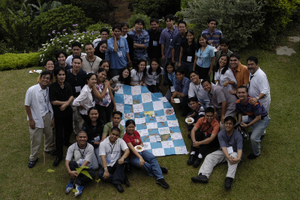 everyone's connected, we are interconnected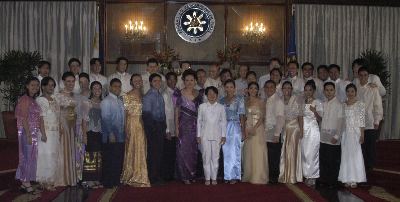 last year's 30 finalists at malacañang palace
-¤-
number 4
HAPPY FIESTA CITY of ILIGAN!!!
yeah, i know, i know. it's on the 29th.
gimingaw nakog tubig og lechon sa iligan!
hahaha. that's all for now.