"I didn't know how badly I felt about this life until then. Now when you look at me so kindly, I know for sure I don't like this life. I just want to do something like crawl with you and nibble grass." -- Yellow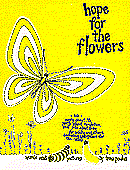 HOPE FOR THE FLOWERS by trina paulus
"
this is the tale of a caterpillar who has trouble becoming what he really is. it's like myself - like us... a tale partly about life, partly about revolution and lots about hope for adults and for others (including caterpillars who can read)... a different sort of book for everyone except those who have given up completely (and even they might secretly enjoy it)
"
first published in 1972,
hope for the flowers
is an illustrated book with simple words and yet very profound. it can be read in 5-10 minutes. I HIGHLY RECOMMEND IT.
"in character, in manner, in style, in all things, the supreme excellence is simplicity."