og karon, magbinisaya sa jud ko. pasaylo-on na lang ko dapat sa mga dili kasabot ug binisaya kay gibati jud nako nga magladlad sa akong true colors.
ang title man unta ani nga post kay june 18, kaso murag dili man kaayo patok ang dating... mao na nga kabisdakan et al na lang. ang ako hinuon ikadalit karon kay bahin sa june 18,
adlaw sa mga bisaya
.
hunyo diseotso dos mil singko. sabado.
gasabot-sabot ming mga
bisaya bloggers
nga ania sa manila nga magtapok-tapok aron magkainilhanay sab mi personally ug dili lang pinaagi sa emails og blogs og ym. ang nasabutan nga venue kay starbucks sa shangri-la plaza mall og ang takna kay lunchtime. charrus! dili biya sab mi tantong sosyal. starbucks ra biya.
anyway, na-late ko... as useless. adtong on the way nako to shang, gi-text ko ni sealdi na dili na daw ko moadto sa starbucks kay sa tokyo tokyo na lang daw ko adto. payts ra pud sa ako oi. in fairness, dugay dugay nako galatagaw sa metro manila, wala ko kabalo asa dapit ang starbucks sa shang, hahaha... pero kabalo ko asa ang tokyo tokyo. no problemo. ang nahitabo, gihimo lang nga abutanan nilang bhevs, jory, gail og ni sealdi ang starbucks, ayos! mga wais jud.

bhevs and jory a.k.a. cesar montano, hahaha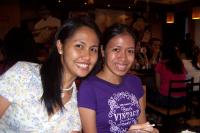 gail and sealdi

mga ala-una y medya na ko nakaabot sa tokyo tokyo, ako na jud! wala ko nawala noh, langayan lang jud ko. pag-abot nako, hapit na sila mahuman og kaon (nag-picture picture na pud sila! waaaaaa...) and since nakakaon naman ko, ningpalit lang kog iced tea para dili sab ko maka-feel na OP ko sa ilang kaon-kaon. tapos, picture picture na pud, gi-document kunohay ang among first time na panagtapok-tapok. hehehe...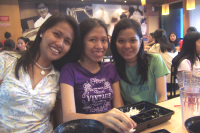 gail, sealdi, ako

after sa kaon-kaon, tabi-tabi jutay og katawa-katawa (kusog ayo among mga tingog, gapaila lang jud), nanghawa na mi sa tokyo tokyo kay motan-aw daw mi ug sine. gi-check namo ang rates sa mga sinehan sa shang og nagdecide mi nga sa gateway na lang mi manan-aw kay gusto man pud nilang gail and bhevs nga mapadpad sa gateway. ningsakay mig MRT padulong cubao kung asa ang gateway, and as useless, saba lang japun kaayo mi, mura mig 50 years na nag-ila.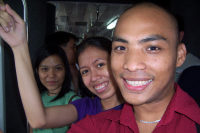 kunyari wala mi nagsaba-saba, ngisi lang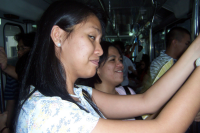 kunyari mga hilumon, pahiyom lang
adtong niabot nami sa gateway og niabot na sa lapag kung asa ang mga sinehan, nagpalit mig tickets para sa batman begins. gikuyogan lang mi ni jory a.k.a. cesar montano sa gateway pero wala na siya ning apil og tan-aw sa batman begins kay asikasuhon sa daw niya iyang lovelife. hehehe. in fairness, nindot baya ang batman begins, wala ko nagmahay sa akong gibayad. giahak lang jud si katie, kay murag everytime mo-appear iyang face sa screen kay makahinumdom mi sa chismis about nila ni tom cruise. unsaon! anyway, nindot lang japun ang batman begins minus katie holmes. hahaha! tapos, ingon si bhevs, si christian bale daw ang klase sa lalake nga pwede ignon ug "hurt me, hurt me!" na...unsaon? oi bhevs ha... grabe, masokista ra kaayo ka. isa lang akong ika-ingon about christian bale: kung lami siya as laurie sa little women, mas lami siya as batman. hahaha! yamats na, i think i just ruined my reputation. sa tanan ba namang words pwede gamiton, lami? hala ka dinha.
pagkahuman sa salida, nanghawa na sad mi sa gateway og ningsakay mig MRT pabalik sa ortigas kung asa ang venue sa fete de la musique 2005 nga gusto sab namo ma-witness. (gwabe, witness man jud.) anyway, pag-abot namog ortigas, naglaroy-laroy sa mi sa SM megamall and nagdecide mi nga mangaon sa kfc. samtang galakaw-lakaw mi ug nangita sa kfc, natagbuan namo ang.... ting tining tinining... junior kilat.
aws way kurat. junior kilat ra bitaw. tymsa... junior kilat!!!
ingnan nga walay lagi'y kurat. nanakay mi sa escalator og ang junior kilat nawala na sa among field of vision and then... poof! junior kilat jud lagi to sila bai!!! impulsively, nagdecide mi nga moapas sa banda. hala ka dinha. so, igo ra pud mi niabot sa next floor, ningsakay na pud mig escalator panaog sa among gigikanan nga floor og nagdali-dalig lakaw para maabtan namo ang junior kilat. kataw-anan kaayo among gibuhat, hahaha! sa among upat, kami lang man ni sealdi nakarecognize sa junior kilat. si bhevs og si gail kay clueless kung kinsa sa mga tawo nga naa sa mall ang junior kilat pero sila ang game mo-approach sa mga miyembro sa banda. og sa dihang...
bhevs:
"Asa nman sila? Kinsa man akoa storyahun ug duolun diri?"
*
gail:
"Kamo 'tong banda na Junior Kilat?"
*
bwahahaha, hastang lingawa. kami ni sealdi gaagik-ik og kinatawa sa nahitabo. lingaw kaayo ming upat og maayo na lang kay game kaayo ang banda. kasabot ra pud sila sa among kabuang. ebidensiya o...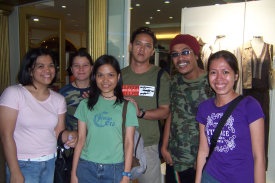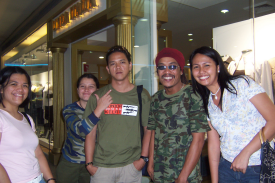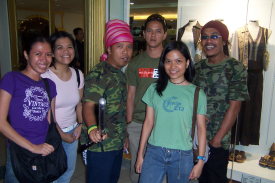 struck by junior kilat
klaro man sa among mga ngisi ba nga nalingaw mi?

sa tinuod lang, first time to nako nagpaka-starstruck harap-harapan. usually, maka-maintain bya ko'g "no reaction, deadma, paki ko" attitude bisan kinsa pa na nga sikat. grabe junior kilat na jud. proud ko kay bisaya sila. payts.
in fairness, wala ra pud bya mi nakalimot nga mao ng galakaw-lakaw mi sa mega kay mangaon mi. ang kaso, wala namo na-locate ang kfc so nag-pizza hut mi. tabi-kaon na sab, dala katawa sa among mga kabuang. pagkahuman namo didto sa pizza hut after ten thousand years (yeah, ingon ana mi kadugay nakahawa didto kay langay ayo ilang mga tawo), nagbulagbulag na mi: si bhevs nibalik sa iyang office and si gail gisundo iyang mga boylets somewhere sa megamall, samtang kami ni sealdi nisulod sa department store para palitan og panyo si manman nga kauban namo motan-aw sa fete. ang among gipalit kay labakara, hehehe, kami na jud.
niabot mi sa main stage didto sa el pueblo igo-igo pud hapit na ang opening sa music fest pero wala namo nakit-an si manman. sa may kilid mi nagtindog ni sealdi samtang si manman nagpwesto didto jud dapit sa soundbooth. didto lang mi ni sealdi sa may kilid sayaw sayaw (as if! yes na lang gud!) habang nagperform si cynthia alexander, ang tropical depression, og ambot unsa to nga banda nga hapit nagpatulog sa ako. anyway, lingaw kaayo mi bisan tuod gubot kaayo ang mga orcs-slash-punkista nga sige og katkat sa secondary stage aron mopapel. at one point, nagkagubot pa jud kay naay nag-away, niabot sila didto dapit kung asa mi nagtindog. saon! adtong hapit na magperform ang junior kilat, namalhin nami ni sealdi atubangan sa soundbooth kung asa si manman ug kung asa mas okay ang view and wala kaayo'y usok sa sigarilyo ug kung asa tua ang tubig ni manman nga among giinom ni sealdi, hahaha. ayos kaayo ang set sa junior kilat, lingaw kaayo, dako kaayo mig ngisi. gikanta nila ang m-16, akong paborito nga 'k fyne, sigbin og suyop! mga 11:30 na to adtong panahona... after sa junior kilat set, nanguli nami ni sealdi, gibyaan na namo si manman. hehehe sayo kaayo mi nanguli... wala man gud ang brownman revival, so junior kilat ra jud among gipaabot nga reggae act.
and what a night!!! ningsakay mig taxi para pabalik sa diliman... kabalo mog unsa'y nahitabo? ngek, wala mi nahold-up noh. may ra pud.
aside from kataw-anan kaayo ang mga comments sa taxi driver bahin sa radio station nga iyang ginapaminaw kay ang tugtog lagi daw kay murag pangpatay ug panghatod sa mga tatay sa hukay, ningtirik ang taxi in the middle of edsa, hahaha!!! laugh trip. ay, niingon na ba ko na bisaya sab ang driver? bwahahaha...
di bale na nga namalahan akong likod ug singot, di bale na nga halos nalumos akong lungs sa kadaghan nakog nasimhotan nga sidestream smoke, di bale na nga hapit mi natumba adtong nagkagubot sa fete, di bale na nga sick akong status karon, yes na lang... lingaw man!
*gikuha nako sa blog ni gail.