You can't deny laughter; when it comes, it plops down in your favorite chair and stays as long as it wants.


-- Stephen King, Hearts in Atlantis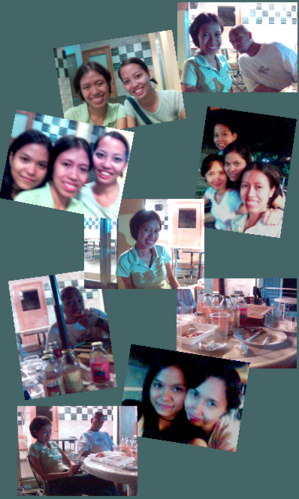 july's yellow cab sunday crowd: manman, sealdz, yoni, val and janjan
first, my story.
here we go, again...
i got so sick one day. i didn't have the strength to go out of my room. i couldn't accompany cinema buddy to the movies and i couldn't eat out. there i was... befriending my bed, hugging my blanket and my pillows, feeling alone and forgotten. this happened many, many, many months ago.
STOP! where's the yellow cab? this is about yellow cab pizza, not about you being so sick one day.
stop ka rin!
as i was saying, i got sick. i was alone in my room many miles away from home. i had no one to look after me every now and then to check if i was still breathing or what. i thought i was forgotten... i was not.
cinema buddy
was an angel that day, she checked on me and decided to be of help.
since it was a weekend and going out was out of the question because of my condition, we went for the next best thing... we ordered yellow cab pizza from their katips branch and had movie-watching/pizza-eating session inside my room 'til the wee hours. cinema buddy's comfy mat and my bed tray proved to be useful for our make-shift entertainment system. hehehe.
...and that's the story of my first taste of yellow cab pizza.
as for the sundays... i don't know when we started having yellow cab pizza sundays. it's a "tradition" that my friends and i never really planned to have until we realized it was already one. (
medyo malabo ba?
)
to unwind and lose the feeling of toxicity, we usually go out for fun and interesting conversations on weekends and eat somewhere... and "tradition" dictates that at least one sunday of each month is yellow cab pizza sunday -- either in katips, in visayas avenue or anywhere.
the branch in visayas ave is our favorite yellow cab place. the ambience --
al fresco
-- on the second floor is the main reason why we like being there. everytime we're there, we ogle over the yellow motorbikes parked outside. more than the pizza, more than the chicken wings, more than the pasta, i love the color yellow and cinema buddy likes the yellow motorbikes, hahaha!
so, it was just fitting that cinema buddy's birthday fell on a sunday this year and as a birthday treat, she shouldered our yellow cab tab for this month's first yellow cab pizza sunday!!!
cute pics. nice poses. beautiful people. i have nothing else to say except... happy birthday, shalldie!