Where there are friends, there is wealth.


--Titus Muccius Plautus
we had joy, we had fun, we had seasons in the sun... but since i don't want you to sing
THE song
, i'm not gonna say "the hills that we climbed were just seasons out of time" nor "the wine and the song like the seasons have all gone". hehehe...
the times we've had, the countless places that we've been to, the swimming pools, beaches, waterfalls and forests where we've played, the bottles we've overturned, the songs we've sung, and the dreams we've shared... they're not gone. they're not out of season. they are still with us... just like our friendship and its echoes of laughter...
...and yesterday (july 17, 2005) can attest to that.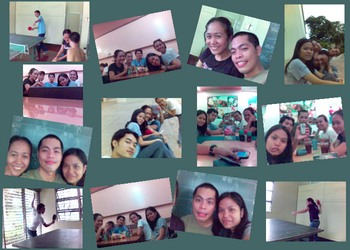 tiny souvenirs of a well-spent, fun-filled & pocket-friendly sunday afternoon
of jerk, val, miez, randz and naoms
we had ping pong, we had laughter. we had food, we had laughter. we walked, we had laughter. we took a rest, we had laughter. we had food, we had laughter. we played billiards, we had laughter... just like the old times... just like when we were in iligan.
for better, for worse, for richer, for poorer, in sickness and in health, in luzon, in visayas, or in mindanao, and probably even in the most unlikely portions of the universe... through thick, through thin,
stik pa rin
!
less than three years ago, we, the
p6peeps
, had iligan, naawan, lanao, ozamis, tangub, oroquieta, calamba, zamboanga, and cebu. now, we have metro manila...
kay mga laagan lagi!
=)