The artist's world is limitless. It can be found anywhere,

far from where he lives or a few feet away.
It is always on his doorstep.
--Paul Strand
last week, i had to make these two cards for my labmate who celebrated her birthday last august 23. although i was asked to do the task on ultra-short notice, i gamely grabbed an ordinary short folder from the nearby store, paid for it and brought it to the lab where i cut it into two. then, 22-year old me went back to who i was before i became a full-fledged nerd (ha ha!) -- the "old school" artist. voila!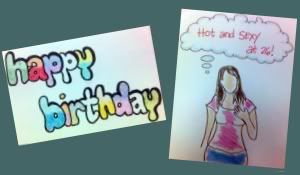 in the process, i found out that my 64-color
Crayola
crayon set (which was bought many months ago but was never opened until last week) has purple mountain's majesty.
has whaaaaat?
last week's "my discovery of the week":
purple mountain's majesty. it's a name of a color and it's the most outlandish crayon color name i've ever heard and known! tsk. there's mauvelous, tumbleweed, wisteria, timberwolf, bittersweet, periwinkle, orchid, cornflower, dandelion, tickle me pink, asparagus, granny smith apple, macaroni and cheese, cerulean, robin's egg blue, golden rod, and chestnut, but, for me, nothing beats the name purple mountain's majesty. what can i say? it's... outlandish!!!
purple mountain's majesty. sounds like
kalokohan
, right? abaniko ought to add it to
his list
of weird-sounding color names.