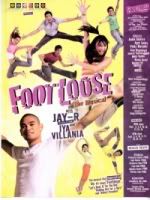 let's hit the ceiling

and then let's tear up this town

tonight we're gonna cut loose, footloose

kick off your sunday shoes...
it was fun watching jay-r, the "prince of RnB", and iya villania, the "crush
ng bayan
", perform live together on stage. it was fun listening to good music and going back to the '80s even just for a couple of hours. it was fun being entertained by a talented ensemble. it was fun to see seamless transitions on stage. it was fun sitting on a comfy chair beside friends who make me see glimpses of home...
it was especially fun because our $$$ tickets were free, weeeeeeeeee!