Life beats down and crushes the soul
and art reminds you that you have one.
--Stella Adler
my sketch pad has been with me for over a year but except for a single, faint pencil mark, it's empty. i wasn't able to put anything substantial in it until a little more than an hour ago...
yehooooo! my sketch pad is empty no more!!!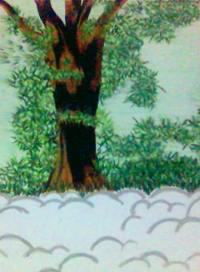 the lone sketch pad entry
it took me about an hour to finish this 9" by 12" piece, which is loosely based on a picture i took while a
dewar
was being filled with liquid nitrogen. the "clouds" represent what's readily seen when liquid nitrogen gets in contact with the surrounding air and evaporates -- a creeping fog.
i'm not quite satisfied with how the trunk turned out because it has too much black in the wrong places but i like the way i managed the greens. using oil pastels, i experimented with short, heavy strokes to represent the leaves -- the process was quick and the over-all effect was better than i expected.
the picture of the artwork is a li'l bit blurred... resolution was compromised by the cellphone cam. argh.