how i love the simple things,
the simple things just are...
-- Simple Things, Jim Brickman featuring Rebecca
i've been listening to
this
song for 4 days now. i've set the music player to repeat mode so everytime the song ends, it starts again and just goes on and on. i'm not yet tired of hearing it and perhaps i never will. oh geez... help? no, no, not yet, just let me be.
see, it's like my grilled blue marlin. my what? yes, it's like my 'official' favorite lunchtime order, grilled blue marlin. when i don't want to think and i just want to eat, i know where to go and i know what to say to the person behind the counter: grilled blue marlin. having set grilled blue marlin as my 'official' lunchtime order, i don't have to think much about lunchtime food and i don't have to worry about my appetite. in the same light, having set simple things as the 'official' song in my music player, i don't have to waste seconds in thinking of what songs to listen to. there's simple things in repeat mode and since it's not the kind of song that'll give me a headache in the long run, i don't have to bother looking for other songs to listen to. heck, am i making sense? whatever. bottomline, i don't tax my brain thinking too much of things that don't really require much thinking. the only drawback, if you can call it that, is that i'm now 'addicted' to simple things.
"after all the clouds go by,
the simple things remain"
i think i'm now ready for my concert with jim brickman on piano and rebecca as my
chuchua
... este back-up singer. hehehe.
adik?
guess the name of my
'official' online photo gallery
. it's simple... as in simple things, mwahahaha!
moving on...
i spent the first day of october with my beautiful (
walang kokontra
, okay?) friends, and here are our wonderful saturday afternoon souvenir pics...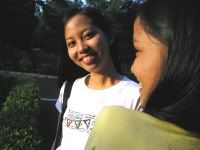 sun-kissed!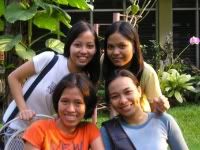 haniko's witches: the trio is now a quadro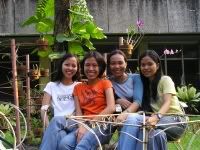 thank you, timer! thank you, camera!
oktoberfest! ...but more than that
as of today, it's 84 days to go before christmas and just 2 months, 2 weeks and 1 day until my birthday. yes, it's finally october! we are now in the last quarter of 2005. hmmm... i'm excited to go home and it gives me a huge, huge reason to smile. the anticipation makes me squeal in delight.
yessssssssssssssssssssssssss!