23.23: because a 23-year old shares some things on the 23rd day of the month...
>>
the 17th of december was my last day as a 22-year old and here are the highlights of that day:
looking for my research logbook
owing to "thesis my quest (to follow that star...hahaha)," i'm expected to work on my thesis while i'm home for the holidays. however, the very thing i needed to bring home with me to do just that, I LOST. argh!
my research logbook is (was?) where i write (wrote?) down all my thesis-related thoughts and i realized it was missing the day before i was set to fly out of manila. argh!!! all is not lost, however, thanks to my 'OC-ness'! i still have with me softcopies of my data files and some reference materials. i can build things up again from what are left. still, the research logbook that i've been writing on for almost two years now is MIA (as in missing in action) and that really hurts! experimental details... calculations... databank... wawaaaa...
part of me is really still hoping that i would find it again. i must.
purchasing a monitor
last october, i wrote about my laptop going bonkers. i also shared that i was able to fix it. unfortunately, my gadget must really be possessed with unknown spirits. it went bonkers again and refused to allow me to see the display. i gave up fixing it on my own and brought it to the repair center where it was diagnosed with a busted LCD. pooof! since i don't want to spend a fortune on having the LCD replaced and since i don't want to part ways with my laptop just yet, the solution i thought of was to have an external monitor.
as a birthday gift to myself, i purchased a monitor.
ladies and gentlemen, my laptop is now a compact desktop platform that functions as a CPU and keyboard and mouse and modem and etcetera all-in-one (everything but the display!). ha ha!
ay shucks! i can't bring my laptop just about anywhere anymore. hu hu.
painting in starmall
there's a "let's paint" booth there in starmall that sells pre-designed plasters of paris. one can either choose to buy the already painted ones or pay for the bare plasters and then paint. my friend yoni and i, artistically inclined people that we are, spent almost 3 hours painting our respective blocks of plaster. we actually took pictures of our works using our phones but i couldn't share the pics just yet because i currently don't have access to an IR reader. i'll just share more about this painting activity (and the pictures) in a future article. ;-)
>>
i turned 23 in manila but i was able to spend most of my 23rd birthday in mindanao and with the comfort of my family, as planned. hehehe. for that, i'm immensely grateful. i was able to watch peter jackson's king kong, too!
i would like to say thank you to the following people who greeted me: ate riza, jerms, ayn, papang, mamang, vl, nikki, sealdi, yoni, shella, anne-anne, naoms, tita emie, haidee, tita binbin, rose marie and ilian, johncy, blue, jezer, tiffany and jericho, lorie, bau, tita yenyen, kuyang, rainman, michi, ivan, chi, kuya eli, wynn, benjie, edson, micmic, ann, iris, joyce, sir ian, dumay, jp, randy, haniko, kurt, ducay, loublanc, babypink, kars, ayeza, ate pie, sir rodion, and kuya richard.
to all those who forgot and conveniently forgot, i dedicate to you my personal favorite among all the pics i took of my 22-year old self: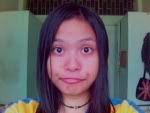 cute naman ako ah! (ha ha!)
>>
my first appearance in a social gathering as a 23-year old was the wedding of my friends, jerk and tiff, who got married on the 21st day of december. i got dolled up for the occasion, my hair was swept up, and i even wore a nice sleeveless long dress!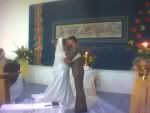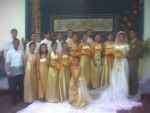 from left to right: the wedding kiss, the wedding entourage (one of those very rare moments when our barkada can be labelled 'itsurang tawo!' hehehe)
not only was i part of the pair that put the cord around the couple during the wedding ceremony, i also became one of the emcees during the wedding reception.
yeah, i know. me?! a wedding emcee?! honestly, i never thought i could do it. i never thought it was possible but i was thrown into the duty IMPROMPTU when nobody else among our barkada was willing to. i didn't actually have the heart to disappoint my friends and ruin the great day by refusing, so i relented and everyone felt relieved and happy.
yeah, when nobody else wants to, and if we're good friends, there's a good chance that i can be convinced to be your wedding reception emcee for free, hehehe... (just make sure you have your preferred spiels ready if you want me to do things 'your way'. ha ha.)
>>
ouch
ha
!
parang andaming
super
importante sa 'kin ang nawala
this year.
sobrang pagsubok itetch.
ouch ouch
talaga
. BUT NOOOOOOOOOOOO...
i know and really still believe that i'm still so blessed! weeeeeeeeeeeeeee... whatever happens, there's always a bright patch. every day's a brand new sky, after all. i'm definitely going to buy my dreams with all my todays and all my tomorrows.
todo
risk-taking
na
!
therefore, to hell with suckers. ha ha.
>>
merry christmas and happy new year, everyone!!! ;-) i leave you with this face...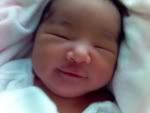 aye, that's my niece!