after "
jap-nese
," it's time for "chi-nese":
That's not right. --

Sum ting wong


Are you harbouring a fugitive? --

Hu yu hai ding


See me ASAP. --

Kum hia


Stupid Man --

Dum fuk


Small Horse --

Tai ni po ni


Did you go to the beach? --

Wai yu so tan


I bumped the coffee table. --

Ai bang mai fa kin ni


I think you need a face lift. --

Chin tu fat.


It's very dark in here. --

Wai so dim


I thought you were on a diet. --

Wai yu mun ching


This is a tow away zone. --

No pah king


Our meeting is scheduled for next week. --

Wai yu kum nao


Staying out of sight --

Lei ying lo


He's cleaning his automobile. --

Wa shing ka


Your body odor is offensive. --

Yu stin ki pu


Great! =

Fa kin su pah
i ripped this from
this blog
. (thanks a lot
kuya kim
for allowing me this repost although we both know that i didn't ask for your permission, wahahaha.)
happy
chinese new year
, everyone!
-¤-
dasher vs. accelerator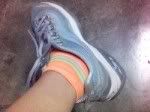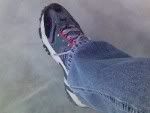 what's your pick: the premiere-dasher or the accelerator?
actually there's no need to choose anymore. my own mother had already put a "death sentence" to my skechers premiere-dasher last december. she made me stop wearing the pair because, according to her, the shoes look so
dugyot
and worn out already. oh well, i took that dasher picture just last december and my shoe in the pic surely does not have the "worn out" look. maybe i'm just so good at picking the right angle, we all can't see those parts where the shoe fabric's scratched and damaged. still, it makes me wonder how come my mama didn't complain about those "badly beaten" (and, therefore, "worse-looking") shoes i so loved to wear when i was in college? hmmmm... as the saying goes, mothers know best. we may not always understand them, but we just have to listen. so, having faith in my mother's good intentions, i said "R.I.P." to my two-year old dasher pair and went back to manila wearing a trusty pair of brown-colored islander slippers. yes, you can say i extended my sala (living room) from there (iligan) to here (metro manila).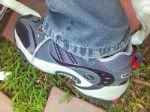 the accelerator wins!
with my dashers being "out of commission" already, i'm currently "abusing" my just-over-a-year-old merrell accelerator pair. i bought 'em accelerators last december 2004 as a birthday-slash-christmas gift for myself. oh, i love 'em! they're still far from being
dugyot
. ha ha ha!
-¤-
they're going to bloom...
gardeners have already started tilling the soil to make those stretches of sunflower beds along UP avenue. soon, sunflower plants will be sprouting and there will be people who will mistake them for okra plants (bwahahaha!). then, come april, just in time for the university graduation exercises, people will no longer doubt what they truly are because the sunflowers will bloom.
i truly hope that they will bloom for me, too.
-¤-
flashback
before i left for manila early this year, i was finally able to tell my parents about "my plans after getting my master's". i used to dodge their questions, i used to change the topic whenever they asked. BUT, that day, when they saw me off at the airport, i finally let them know the things i had in mind, "still vague" they may be. i answered their questions, we talked about my options, and, in my own way, i admitted to them my fears. it was cathartic for me.
see, my parents regard me as secretive. they're familiar with my tendency to hold back talking about certain things. they know that i have the tendency to wait for the last crazy minute before i share anything too personal. they know that i don't tell them a lot of things. they know that despite my being such an incessant talker, i still keep a lot to myself. all the time i was telling them "i don't know" they've been patient with me. they waited 'til i was ready to talk. AND that day came...
now, i go about really assured that whatever happens to me and my so-called plans, my family will be with me through and through.
-¤-
thesis my quest, to follow that star...
whew! i need all the support i can get. just forgive me when i rant. i just need to release my anxiety. i don't wanna be burnt out. i've been munching, trying to eat away my apprehensions. the deadline for our manuscript is on the 21st of february. i'm setting the 14th of february as my personal deadline. geez. i still have so many things to do. please don't forget to check on me from time to time, i need to be reminded to breathe. i need to be distracted. wait, when is the UP fair??? i don't wanna miss it.
dapat inyo jud ko ma-
B.I.
p.s.
ano na ang nangyayari sa
only you?
musta na si tj
? in-love
na yata ako sa kanya
, waaaaaaaaaaa...

dapat sila ni jillian ang magkatuluyan kasi mahal naman nila ang isa't isa -- ang dami lang talaga nilang pa-epek at drama. lasunin na si trixie para wala ng manggugulo, wehehe.