"Let her cry, for she's a lady
Let her dream, for she's a child
Let the rain fall down upon her
She's a free and gentle flower, growing wild"
-- Wildflower, Color Me Badd
i went home. i could say that it was a spur of the moment thing. sure, i was hell bent on sticking to my schedule but something in me snapped.
to hell with schedule!
i woke up one day and felt too sad. in my attempt to uplift my spirits, i thought hard of what it was that i really wanted to do.
i thought of going home. i wanted to be in mindanao. i wanted to see my iligan. i missed my room. i missed being home.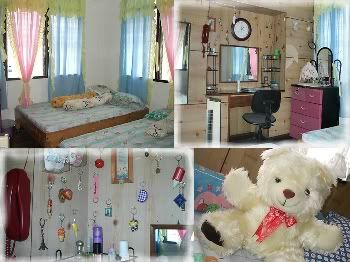 my room, my stuff: these and some other things, i tend to miss
4th of january 2006. that's the last time i was in my hometown. 17th of august 2006, thursday. that's the day i woke up feeling too sad. the first thing i did when i got to the lab? i emailed my friend, yoni, and told her that i wanted to steal some time... to be on a vacation... to see something i've been deprived of for eight months already -- my real home.
i emailed her in the morning. by nightime, i already had a roundtrip reservation. the next day, i went out to claim my ticket before reporting for work. ohhhhhh... i realized i was being impulsive. to be honest, i trembled with the realization.
considering that i have a deadline on the 4th of september, i wasn't expected to be away. nevertheless, i got my ticket and quickly sealed my going-home plans without consulting my adviser first. i only had friday to let him know that i was going out of town...
18th of august 2006. friday. i went to the lab after my trip to the ticket outlet and multi-tasked by preparing for the experiments to be done that day and drafting necessary letters. i also edited technical documents to be sent out to our funding agency. i also used up the time to prepare for my then would be talk with my adviser regarding my unexpected trip. no, i had no plans of going AWOL. it was important for me that i had to let him know. around noon time, he came in and asked if i've already eaten. he decided that i should accompany him and his family to bicutan for an important business.
on our way to bicutan, sir's wife asked,
"so val---, when are you going home?"
i said,
"sa october pa po ako pwedeng umuwi..."
and then, like a very excited and very hopeful child, i quickly addressed sir and said
"pero, sir, pwede po ba akong umuwi bukas?"
mwe he he he.
our conversation went on like this...
adviser: uuwi ka na. uuwi ka na. ba't ka uuwi?
me: sir, sandali lang naman po. by wednesday morning, i'll be back here.
adviser: ah, sandali lang naman pala. matagal ka na palang hindi nakikita sa inyo. kelan ka ba last nakauwi?
me: january po ako last nakita sa amin, doc.
adviser: ah, so my ticket ka na. sige, balik ka kaagad.
me: yes, by wednesday, i'm back. pramis.
hewwww... cool. i was delighted and excited.
very early morning of 19th of august 2006. saturday. i didn't sleep anymore. i made quick preparations for my trip. at about 3am, i left diliman and headed for the airport on a taxi cab. but, first, i made a sidetrip to yoni's place in shaw boulevard to fetch her. (yes, i wasn't going home alone.) next, we made another sidetrip to makati to fetch yoni's friend, athan. then, off we went to the airport to catch the first flight out of manila, bound for cagayan de oro.
by 6:30am, our plane landed on mindanao soil. i blurted out
"yes, i'm here... after eight months."
yoni said,
"after two, three months for me."
then, i said,
"after 24 years, for athan."
ha ha ha... anyway, yoni and i laughed and laughed as we got off the plane. she received a text message from the taxi driver who was supposed to fetch her but didn't show up according to schedule. the message sent us laughing our hearts out. it said,
"maam, sorry po. nakakain kasi ako ng pampatulog kagabi. 5am na ako nagising."
bwahahaha...
nakakain ng pampatulog
. to us, that's very funny and interesting.
wow, it felt good to be walking on mindanao soil again. it felt good to hear bisaya being spoken all around me. it felt soooo good...
well, except that i took the first flight, got reunited with my friends, had a swell white water rafting adventure (this definitely deserves a separate blog entry), got a well-deserved sunburn (ha ha!), went home (yesssss!), surprised my friends and family (i didn't tell them i was going home, they weren't expecting me), spent three lazy days at home (hu-wow!), saw my room and my books and went around the city, i did nothing much. hahaha, as usual, i'm saying "nothing much".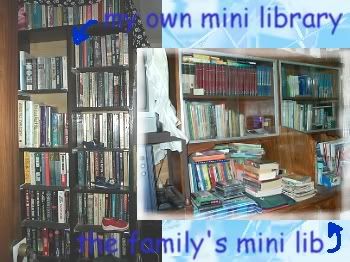 the book collection i built on my own during my college days
and the mini library the whole family is still building up
by the way, my hair's considerably shorter now. my mama had my tresses cut the night before i went back to manila. just as well... i'm back to wearing ribbons on my hair. he he he.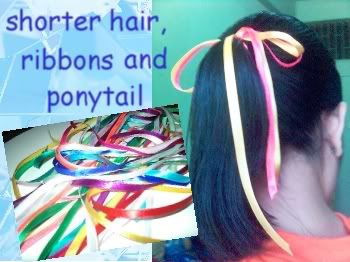 hair talk!
as a result of my caprice, i'm again all of a sudden several thousands poorer. so what? keeping my sanity is far more important than my savings account. i went for what i wanted and came back happy.
owkey, gotta go now. 'til my next entry, peeps!