congratulate me fellow netizens! i survived ten (10) days of internet hiatus without withdrawal syndrome. internet junkie that i am, i regard that as a feat. clap! clap! clap!
you might be wondering what i've been up to. well, nothing much really except that...
1. i left metro manila and headed for iloilo
october 24. monday.
my labmates and i left manila and got on board the ship, st. joseph the worker, which was bound for iloilo. we traveled for 24 hours and here are some of the things we got to show for the time we spent on the boat...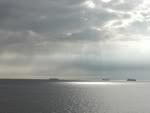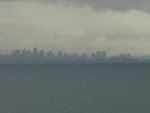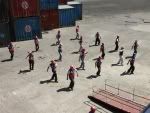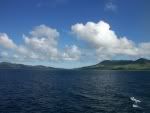 clockwise from top left: light rays straight from the sky, the manila skyline, clouds and islands, dancing porters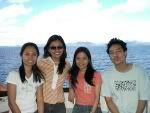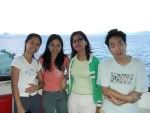 clockwise from top left: sundeck exposure, another sundeck exposure, inside one of the business-class cabins, our shameless invasion of the videoke area
2. i attended a scientific congress
our main purpose for leaving metro manila and going to iloilo was to attend a scientific congress in central philippine university, jaro, iloilo city in order to share our outputs to the scientific community. at the back of our minds, however, the real purpose was to have fun and go to other places, hehehe. it was my first time to be in iloilo.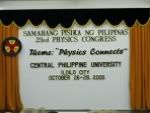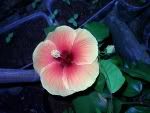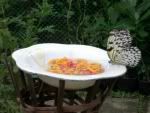 clockwise from top left: the main hall of the congress, labmates, a butterfly in iloilo city's butterfly garden, a yellow and orange gumamela
3. i set foot on guimaras for the first time
the congress ran for 3 days -- from october 26 to october 28. on october 29, saturday, instead of heading straight for iligan, i hied off to guimaras for an island-hopping adventure with 3 of my mindanaon friends.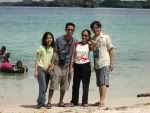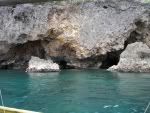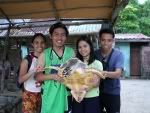 clockwise from top left: the boat that took us from iloilo to jordan-guimaras, group picture - raymen beach resort, cave openings in one of the islands that we passed by during our island-hopping adventure, holding a 15-kg breathing pawikan in turtle island-guimaras, best feet forward, group picture - baras beach resort
4. i went around the island of negros
right after our trip to guimaras, we went back to iloilo city. we left iloilo immediately and took a ride on an ocean jet that took us to bacolod city. we stayed in bacolod for a night and on early sunday, we boarded a bus bound for dumaguete. the busride we got, however, took the long route -- it followed the coastal road instead of going through the road that cuts across the island. as a result, we passed by so many cities we otherwise wouldn't have passed by that day. by the time we reached dumaguete city, my back was aching from the 7+ hours of bus travel. despite that, i don't have any significant complaints. it was my first time to be in negros and i was having fun. in fact, when one of my bags fell off the bus and onto the side of the road somewhere between san carlos city and bais city, my friends and i laughed and laughed while the driver and the other passengers got irritated because of the delay. actually, it was the driver's fault for being such a daredevil -- he was driving so fast, we almost collided with another bus. during the motions of swerving, my bag, which we tied to one of the bus poles, got untied. it fell down the ladder near the bus pole and went off the bus through the open door. it was a quite heavy bag and it was funny to see it falling off the bus the way it did.
from left to right: san carlos city stop-over, negros landscape - cogon grass among the sugarcanes
5. i found myself back on mindanao soil
i must have walked on dumaguete soil for only 15 minutes or less. after we got off the bus that almost took us around the entire coastline of negros (not to mention that it almost took us straight to heaven, hehehe), we got on board an ocean jet bound for dapitan. in less than two hours, we found ourselves walking out of the water craft and on to the port area of dapitan. after 10 months of being away, i was back on mindanao soil. yehoo!!!
scenic shot - dapitan
we left dapitan on a van that took us to ozamiz city. in ozamiz, we hailed a motorcab, which brought us to the port area and arrived there just in time for a barge's departure -- we were the last passengers to go on board.
i didn't mind that we didn't stay long enough in dapitan and in ozamiz. i've been to those places before and already saw most of their areas. i like dapitan but i was excited to be home...
6. i got home
october 30. sunday. at almost 7pm.
after months and months of anticipating the day that i'd be home again, it finally came true and i was back in iligan! yessssssssss...
7. i went to tangub city
october 31. monday. right after lunch.
i'd only been home for less than 24 hours and my parents already whisked me and my sisters off to tangub city, my father's hometown, to see our relatives there. i love traveling and so i was game for it, despite my aching back...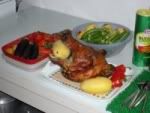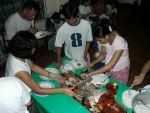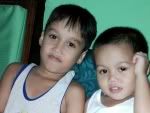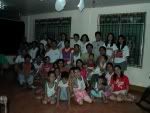 clockwise from top left: lechon head, the lechon has been attacked!, extended family picture - that's only half of our number, cute boys - my cousins
8. i attended a videoke session
my family stayed in tangub city until november 2. just 3 hours after we arrived in iligan, we left our house again to see my youngest cousin, b-boy, whom i haven't seen nor held before as he was born just last june.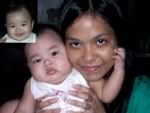 vk and b-boy a.k.a. the crazy predator and the helpless prey. souvenir of our first meeting.
on november 3, i had dinner with my friends, miggs and micmic (m&m!). later that night,
the rose
called me up to force me to attend the videoke session she organized within short notice for her friends from high school, which included moi (of course!). because we're good friends, i had no choice but to join the get-together at her house, which i haven't been to since 7 years ago (when i arrived at her place, i thought i was waiting at the wrong gate, hehehe). i did not regret seeing my high school classmates again. we enjoyed being there and we stayed 'til the wee hours -- singing, talking (shouting?), eating, drinking san mig light, and yes, gossiping. hehehe.
9. i went to bacolod, lanao del norte
i broke my internet hiatus after i got back from the videoke session. i did not return to blogging though; i merely checked my piled-up emails and uploaded some pictures to my bloated friendster account. i slept for a few hours and when i woke up, my parents whisked me off to bacolod, lanao del norte -- this time, to attend my lolo's birthday celebration and to see relatives from my mother's side. there, i had another go at punching the keys of a videoke machine and eating delicious lechon,
papa-it, paklay, kaldereta, dinuguan, kinason, sinugbang isda,
and
bulad
.
from left to right: cousins -- the incomplete set, my lola and lolo with one of their great grandkids
10. ack! i ran out of things to say
okay, this will do:
november 5. saturday.
i bought a ticket for the plane ride that will take me back to manila (gasp!) mid-this week. i have yet to see my best friend (whom i haven't seen for almost two years now) and i have yet to visit my old school. i'm not worried, i still have time.
i told you, i've been up to nothing much. ;-)