"Breathless, we flung us on a windy hill,
Laughed in the sun, and kissed the lovely grass."
--Rupert Brooke
one of the things i find therapeutic is being out in the sun... to feel the wind against my hair and my skin, to breathe in the fresh scent of the living grass, to bask in simple joys under the great sky, to see that the world i live in is still beautiful, to believe that, despite looming roadblocks and inner turmoils, everything is still okay. what can i say? i'm a child of the living world and a fan of the great outdoors.
whenever i feel all my zest for life is in danger of being zapped out, whenever i feel i need recharging or even just a simple time-out, whenever i'm after a home-y environment, whenever i'm longing for light moments... in my mind, i know where to go. OUT!
and OUT was where i was last saturday afternoon. i took a break from swimming in the mental soup called 'my thesis' to spend time with the manila-based
bisaya bloggers
who gathered together (again!) for a picnic at the UP sunken garden.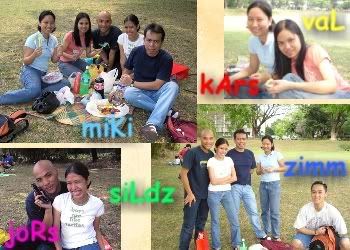 happy picnic buddies at the sunken garden:
"tito" miki, kars, val, jors, sildz, and "tito" zimm
i could say that it was a picnic that didn't involve so much planning -- it was a product of spontaneity -- yet even before we could finish spreading out sildz' made-in-iligan straw mat, we found out that we brought so much food for the activity! we had
lechon manok, liempo, pancit malabon, lumpia,
rice, green mangoes with
bagoong
, boiled peanuts, liters and liters of softdrinks and mineral water, and a pack of jelly ace. we also had cooked
bugas nga mais
and
bulad nga pinikas
! (wow,
kalami ba gayud!
straight from jory's opol, misamis oriental
yan
!) it was a food-fest picnic! the abundance of our food was so overwhelming -- my
bisaya
friends and i were compelled to greet one another 'happy fiesta!' ha ha ha...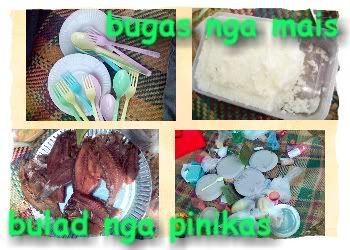 bulad and mais for a bisdak fiesta!
because we had so much food, we were not able to gobble up everything eventhough all six of us could boast of a very healthy appetite. we had a lot of left-overs. even so, we were so food-crazy that saturday afternoon -- when we saw a
mamang sorbetero
(male ice cream vendor), we did not pass up on the opportunity to buy cones and cones of yummy ice cream from him.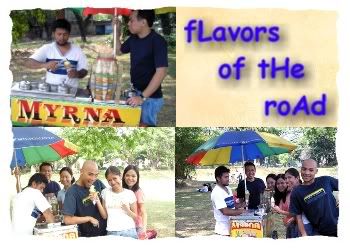 finding happiness with the tiling-tiling ice cream!
of course, we had our photosession with
mamang sorbetero
and his colorful ice cream cart.
we had so much fun that afternoon, we attracted attention from the other people who were there at the sunken garden. not only was our picnic mat a food showcase that even the flies couldn't resist from going near it, not only did we swarm around the ice cream cart as if it was the first time in our lives to see one, not only did we have a swell time "observing" the bodies of the frisbee players playing nearby, we were also making so much noise as we joked and talked to each other using our
tatak-bisdak
loud voices. as usual, jory, our official booking manager and gimmick planner, took the spotlight. a couple also on a picnic couldn't resist from letting out a chuckle when jory oh-so-unbridledly read-aloud for us the latest text message he received...
"if you think that the shortest way to a man's heart is thru his stomach, you're thinking ancient. That theory had long been gone when blow job was discovered."
ooops. you did not read that from this blog! anyway,
lawgaw og lingaw gyud pag mga bisaya magkatapok-tapok!
as i would always say,
"kay bisdak lagi..."