"The reluctance to put away childish things
may be a requirement of genius."
--Rebecca Pepper Sinkler
a friend of mine whom i haven't seen for more than three years came to diliman last monday. after two hours or so of "hi", "hello", "you still look the same!", "oh my god, how come we haven't changed?!" and all the blah-blahs i only share with worthy old-time pals, we hit the mall. there, i made a long-time dream of mine come true...
look what i bought!!!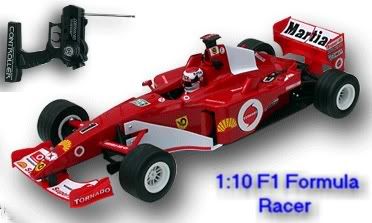 yes, folks! i bought a ferrari!
oh yes! i've long wanted to buy an impressive-looking remote control car. i had it in my mind for so long, i couldn't even remember when i started dreaming about it. dzan dza raaaaaaan... i found what i wanted, fell in love with it at first sight, and bought it!!!
now, it can be said. i bought a 1:10 ferrari F1 formula remote control racer! i purchased all 18 inches or so of it, its redness in all its glossy glory, its highly detailed features, its shock units, its blinking wheels and racing tires, its ~15mph speed, its 10V battery pack and charger, its plastic driver (haha!), and the warranty.
i know you want to see it but i'm sorry, you and i can't play with it anymore. the racer is with kenj now. kenj is my friend's son and my first ever godson. he's only three years old but he's quite a precocious kid, and i'm his quite doting ninang (who did not give him christmas & birthday gifts for the last three years, hahaha) -- he deserves to have one of my dream toys.
whoa! i finally got around to buying a racer! i can't believe it! oh, maybe i'll finally get around to buying myself a fighter jet remote control model. i'm not so sure. i'm still thinking about it -- money does not just pop out from nowhere after all. maybe, it'll take me sixty six thousand years to think about it and i'll still end up not buying (there are so many hungry people out there, you know)... but really, i want to have a flying gadget. it's not a secret among my
p6peeps friends
that i have this long-time dream of owning a flying toy plane, which i once thought of blowing up while it's in mid-air (terroristic tendencies!). one of them said i won't be able to make that dream come true -- he even wrote it down as part of the testimonial that he gave me in friendster, hehe. i guess, he was referring to the "blowin' up the plane" part of my dream. oh well, whatever. the fact remains that, right now, i feel pleased with myself: kenj was as excited and delighted as i when he saw what i got for him.
weeeeeeeeee... happy feelings! happy thoughts! happy!
p.s. i believe in proper attribution: i got the picture that comes along with this post here. i tweaked the photo just little bit to save space.