"Keep some souvenirs of your past,
or how will you ever prove it wasn't all a dream?"
--Ashleigh Brilliant
"easy forward!"

"lock your feet!"

"forward!"
these are the commands that still keep ringing in my good head. it has been more than a month since i made my
"whim trip"
and joined my friends in navigating 12.5 kilometers of the cagayan de oro river... and i'm able to blog about it only now. ha.
19th of august 2006. my sleepless self left diliman on a taxi cab at about 3am. i swung by shaw boulevard to fetch my friend yoni and her "accidental" pet cockroach (which, by the way, we managed to drop off somewhere, haha). then, we headed for makati to fetch athan. from makati, the taxi driver drove us to the manila domestic airport where we caught the first flight bound for cagayan de oro.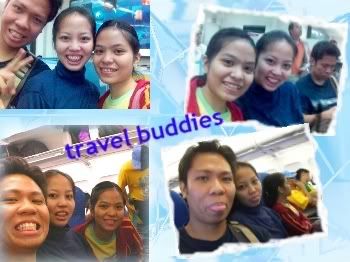 08.19.06 travel buddies: athan. yoni. val.
after we got off the plane, we took a taxi ride and met up with our oh-so-hyper friend (and crazy master) haniko in divisoria, cagayan de oro. haniko was more than pleased (read: excited) to see yoni again and she was genuinely and pleasantly surprised to see me -- she looked like a very happy jack-in-the-box! (pardon me for not being able to think of a better analogy!)
with my trip being a mere product of my whim, i wasn't expected to be anywhere in mindanao that day. haniko had no inkling that i'd be joining "the adventure" after all. how could she when weeks before i've already put my foot down and vehemently told everyone that i won't be home 'til october. ho hum, so much for trying to be firm about my decisions. hihi.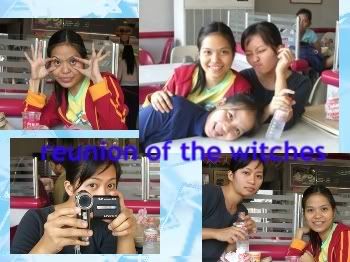 08.19.06 reunion of the witches!: val. yoni. "master" haniko.
"the adventure"? let's call it white water rafting. as early as february 2005, haniko already
got it planned
for us. well, it took us busy witches more than a year to realize the plan...
in divisoria, we waited for rex and his red rafts. rex is haniko's officemate and the operations manager of
cagayan de oro river tours corporation
. we also waited there for yoni's mommy and younger brother anjik.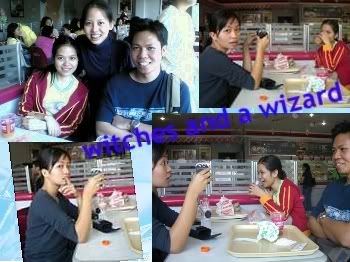 08.19.06 photo ops in DD divisoria, cagayan de oro :)
when the "red rafts team" finally arrived, we said our hi's and hello's and signed our respective waivers. nah, don't ask me what was written in the document i signed... to me, it wasn't a waiver -- it was actually a talent contract. ha ha. someday, you'll see my face (along side with yoni's, athan's, anjik's and, of course, haniko's!) gracing one of those rafting ad tarps in cagayan de oro!
ang kapal noh?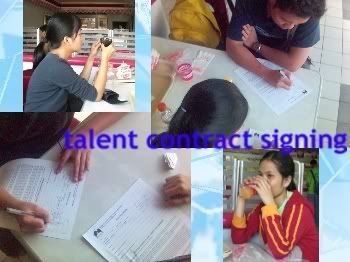 08.19.06 pre-adventure ritual
from divisoria, yoni, athan, anjik, haniko, and i, joined the "red rafts team" in going to our whitewater rafting adventure's start-off point. we boarded the jeepney and headed for mambuaya, where our day's big adventure awaited us.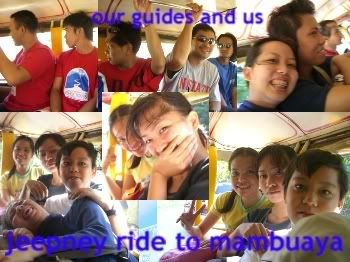 08.19.06 having fun in the jeepney!
the riverscape that we saw in mambuaya was breathtaking. the sun was up and dark clouds were nowhere in sight. it was such a beautiful day!!! we stole some time gawking at the scenery and had our pictures taken in front of the cdo white water rafting adventure welcome marker.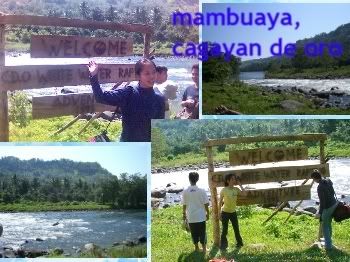 08.19.06 adventure marker and the cagayan de oro river
after putting on our rafting helmets and safety vests, all of us waded in the shallow part of the river for our on-the-spot whitewater rafting orientation. we were introduced to the yellow paddles (yoohoo, paddles in my fave color!) and were shown how to properly hold and use them. the guides demonstrated what we had to do when "forward," "backward," "lock your feet," "high five," and "s-paddle" commands are called out.
then, the time came for us to go down the mighty cagayan de oro river. yoni, athan, anjik, haniko, and i got on a raft with our very able and friendly guides, ryan and steve. two of the other members of the "red rafts team" were on another raft with a set of "singkit" guests from manila who had a very cute little boy with them. the rest of the team took a third raft and served as the "rescue guys on standby".
eventhough my thighs ended up badly sunburned, i enjoyed the adventure a lot! it was fun going through the rapids, shouting our hearts out, and waving our paddles in the air with our woohoo's. we covered a 12.5-kilometer stretch of the cdo river, conquered 14 whitewater rapids and not once did our raft overturn -- yes, we're such good paddlers! haha. (for the record, i did not make that one up. our guide ryan actually commented that we're strong paddlers. heehee. had we been
lalampa-lampa
, our very bodies would have been thrown off the raft and could have hit the big, big rocks. ewww.)
where my rafting skills are concerned, the easiest command to follow is "lock your feet" which meant securing the feet on the sides of the big raft so that nobody will be easily thrown off the water ride. one very enjoyable thing to do with the paddle is the "s-paddle" which meant splashing water towards a target (read: another raft). the "high five!", on the other hand, is the most spontaneous thing one could do with the paddle right after a whitewater is conquered. this involves the act of raising the paddle high up in the air, in celebration and pure exhilaration.
and there's definitely more to the exhilaration and the excitement caused by paddling through the challenging rapids! our whitewater rafting adventure wasn't just about successfully hitting the water and coming out of it alive and in one piece. it was also about shared experiencing. my friends and i worked as a team, witnessed together different facets of nature's pristine beauty in cagayan de oro, and saw what life's like along the riverbanks (cagayan de oro on one side and bukidnon on the other). if you come to think of it, an adventure like that would lose some rewarding joy if there were no lovely sceneries to behold and genuine friends to experience it with!
our rafting adventure ate up only about 3 to 4 hours, but it seemed longer than that for me... perhaps because i enjoyed it so much. the sensory rush one feels while going through the entire adventure makes one lose track of time.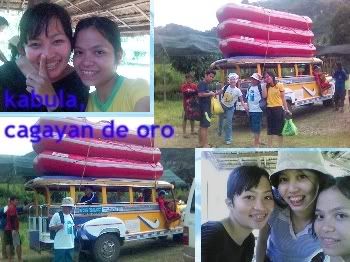 08.19.06 post-adventure photosession
more than 12 kms and 14 rapids after: yey, we did it!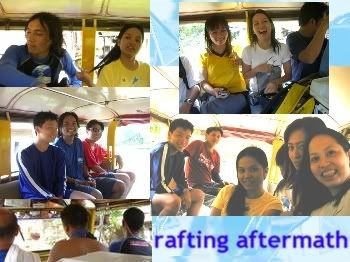 08.19.06 adventure aftermath
back in the jeepney for the ride home...
so where are our whitewater rafting adventure pics? ask haniko! i'll update this article, post our action pics, and share those photos where you can see our group in full rafting gear (with helmets, vests, etc.)... once i get the remaining image files from haniko. weehee!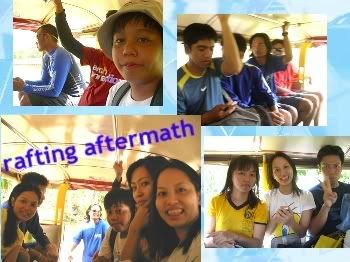 08.19.06 adventure aftermath: one last set

p.s.
(1) photos used in this article are courtesy of athan, yoni, val and haniko.

(2) here is haniko's account (complete with rafting photos) of her first whitewater rafting adventure in cdo.