"They say love makes the world go 'round...
well... so does ten shots of tequila. What's their point?"
-- forwarded text message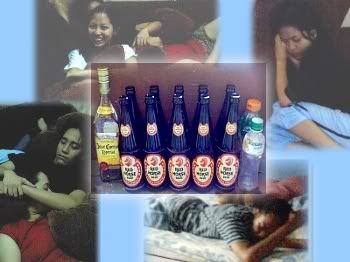 hmmm... what's the story here?

i had a celebration with the manila-based ids99ers last saturday. yoni, rose, ilian, and i started the night with dinner along the baywalk in roxas boulevard. we had sisig (again!), crispy pata, and calamares with our glasses of iced tea and mango shake.
it was my first time to be in baywalk with my friends since all my prior walks and dinners there had been with my papang and kuyang. it was my first time to pay for my own food there, too, since it had always been my papang who took care of the tab. hay, baywalk food and beverage prices are sooo not right. expensive!
...but just as well. i was with great friends whom i haven't spent time with for quite awhile already. it was our reunion of sorts after our last
get-together in july
. we spent some time in baywalk and got entertained by a live band in kafalua. in terms of stage presence and instrumental performance, it was quite a band!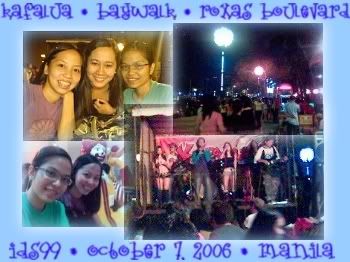 first stop of the night
then, from baywalk, we went to rose's apartment in makati for the planned overnight drinking session with the rest of the manila-based ids99ers who expressed their commitment to be around for the celebration. rose and ilian brought in our food from a nearby grocery while eldani, jezer, mishay, and kenny took care of purchasing our drinks: jose cuervo especial tequila, red horse beer, and gsm blue.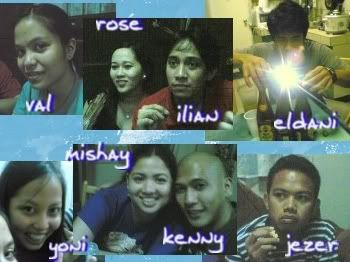 10.07-08.06 drinking buddies
following doctor's orders, yoni did not drink. the rest of us did. we started with the tequila and then the beer. kenny, a classmate back in grade school whom i haven't seen for more than 11 years, was our gunner for the night. it was a very fun night with tequila, beer, good food and great company.
since we were supposed to be celebrating because of me, kenny made me do the duty of drinking the first tequila shot. i lost track of how many rounds we had but i was sure that there were times when the glass did not really go around the circle. by the time we were about to go down to the last shot, i was already dizzy. i remember seeing double while slicing more calamansi. yeah, tequila did that to me!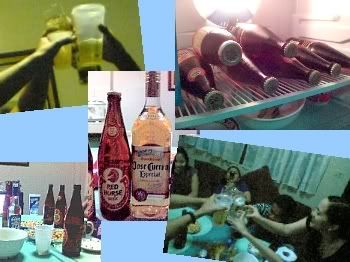 what's your pick?
though it was not yet my turn, they gave me the duty of drinking the last shot despite my half-hearted protests. hehe. after saying our cheers, (except for yoni who had to make do with tropicana twister, my friends had glasses of beer on their hands) i indulged them and drank the last tequila. then, i drank a full glass of beer... because they said i should. at this point, i felt like i wanted to puke... but i did not really want to, so i decided to sleep while sitting on the couch for five minutes.
just imagine my shock when i woke up in a different place and with different clothes. the big t-shirt was clearly not mine! the couch was gone, the table full of drinks and food was nowhere in sight and i was lying on a sleeping bag. it was really an OMG moment for me.
unsa'y nahitabo?
it was yoni who was forced to wake up when i asked that question. she said,
"nagsuka ka."
eeeeeek. something like that happened and i had no recollection that it really did happen!!! worse, i thought i only lost a few minutes (five?), but, in fact, the world that i knew did not exist for me for about 6 hours! i fell asleep at about 3am and woke up at 9am.
it turned out, that when i went to sleep while sitting on the couch, my conscious mind shutdown and my subconscious mind took control over my body. they did not expect that i would be puking since i was still so good in interacting with them... BUT i don't remember interacting with them at all after i closed my eyes. i don't remember that i went back to taking part in the conversations! BUT i did talk to them! i did... and i cannot remember!!!
they said that i was so hyper, i had something hostile to say to everything that they had to say. at some points, the exchanges became so funny... here are some of those that they could recall:
ilian said something about me working on q dust...
me: no, it's dots! not dust! D. O. T. S! not D. O. S. T! (letch! i misspelled dust???)
a neighbor came over and asked us to tone down our noise levels...
friend 1: o, val---, quiet
daw ta.
friend 2:
sige
, val, spell quiet.
me: Q. W. I. E. T! (bwa ha ha ha!
sobrang bangag!
)
my friends laughed...
me: no, no, noooo... it's Q. U. I. E. T! (hay, thank goodness for redemption!)
i puked all over my shirt and my pants... gross!! they had to bring me to the comfort room. there, i "worshipped" the bowl as i puked some more. mwa ha ha ha but ewwww... and then, i fell totally asleep... under the bowl. ha ha ha ha... ewww to the nth level.
yoni said that while i was in the comfort room, i hurled these lines in straight english: "i hate you! i hate you all! what kind of friends are you?! why did you allow this to happen to me?!"
i was so noisy, rose had to cover my mouth... ewwww... then, she calmly mentioned something about us being in a foreign place.
me: foreign place?!
me: what foreign place?! (tsk, how hostile can i get, huh? i wasn't even being deliberately provoked or what! )
good thing they are really friends i can trust my life with. despite the grossness of it all (add to that my hostility towards them that time), they took care of me. the gals changed my shirt and the guys cleaned up the mess i left on the couch and the toilet. i was brought to the bedroom upstairs where i could sleep more comfortably. oh, the gals also changed my pants.
the guys all got drunk and did their share of puking, too. ha ha. they did not outdo me in that though.
it was the worst drunken state i've ever been in and, well, too bad that only my friends have a recollection of it -- i do not have my own independent recollection! i missed out on such a nice and very funny story... and all because my conscious mind got totally knocked out. i already tried my best to recall at least one of those instances in my "totally
bangag
" story... i regret that i just can't remember anything!
something learned? watch out when i'm way beyond drunk... i forget my own dialect -- i speak straight english and yet i spell oh so horribly! as in Q W I E T. goodness! my subsconcious mind definitely needs to be equipped with spell check or something. i have to thank it though for not betraying my emotional hang-ups. hehehe.
...and yes, i should keep in mind that i should go easy on alcohol. maybe i should not drink anymore...
hmmmm... that reminds me of that classic bisaya line:
"di na jud ko mousab... ka-usa na lang!"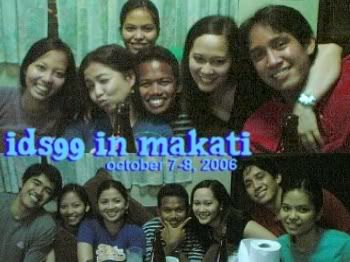 10.07-08.06 souvenir

by the way, next weekend, we will be in corregidor island. la la la...
p.s.
(1) photos used in this article are courtesy of val, ilian, kenny, and yoni.

(2) thank you to my cool 10.07-08.06 drinking buddies for taking good care of me... for being such great friends. i don't hate you.