"If you stay beside me, I might break your wings."
i can't believe i succumbed to goong addiction. what can i say? with princess hours, resistance is futile!!!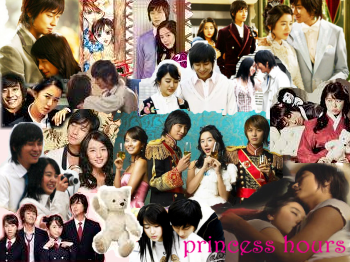 goong a.k.a princess hours
with joo ji-hoon (JJH) as crown prince shin
and yoon eun-hye (YEH) as chae-gyeong
goong
(palace in english), which is also popular as princess hours, is a high-budget korean teledrama and is based on a popular comic book series of the same title. its story revolves around a 19-year old korean crown prince and a young-and-bubbly common beauty who find themselves in an arranged marriage they both did not want but nevertheless agreed to. the tv series had its successful run in korea during the early part of 2006 and has since created a huge following in other countries.
so what's with goong?
is it the confusing romance between the main characters, prince shin and chae-gyeong? his indifference? the way he hides his true feelings? his disarming smiles? her eccentric but charming ways? her free-spirited personality? the love triangles they find themselves in? the intrigues? the cutie cute cute portayals? the elaborate sets? the musical score? the comic twists? the colors? the sights? the dressed-up, cuddly teddy bears? i say, all those... and something more.
when i first saw the princess hours teaser, i got interested in the series right away and i decided not to settle for the dubbed version. my sisters and i must have noisily conspired about it one day because the day after that my father brought home a dvd copy of, yes, princess hours!!! ain't my father cool?
...and so it happened that my sisters and i ended up spending much of our time in front of the tv set, watching a marathon of princess hours. we became such goong addicts, our dvd player gave up on us twice.
i became such a goong addict, i resolved to start my own teddy bear collection. in fact, i soooooo want to own a replica of prince shin's
alfred teddy bear
. i don't care if it's expensive and has to come all the way from south korea, I WANT IT. i want to get hold of the
manwha
, too!

p.s. i'm far from getting over my goong addiction. last night, i started with episode 1 of 24 again; i watched with my mother -- i think she's our new recruit to goong-camp. yiheee!