it all started with us thinking of getting away from our experiments even for just awhile. with "us", i mean my labmates and i. it was already the 21st day of december, and there we were, still working hard in the lab when everybody else was already enjoying the holidays. we felt we really needed to take a good break away from our toxic samples; and jen, my buddy in grad school, presented this enticing idea of us going to los baños, laguna.
the idea was cool and the plan was rather simple: leave manila for laguna by late afternoon or early evening of december 22, spend the rest of the night swimming in a hot spring resort in calamba, and then walk up to the mudspring of mt. makiling in los baños, laguna the following day -- just what i really wanted to do and have: out of town trip and a happy dose with nature. hmmm...
however, when the plan was conceived, jen and i were the only ones from the lab who were really sure to go. lorie, my current lab partner and an undergrad, was excited about it but said she still needed to check with her mom if she could join us. bau, our shono girl and also a grad student, had to be informed about the plan through sms because she was roaming somewhere in divisoria and had no plans of reporting to the lab that day. the semicon kids, our apprentices, and the rest of the semicon people were homebound and couldn't be dragged for the trip.
that night, i invited five of my friends to join us, and jen invited her own friends, too. of the five i invited, only three had the decency to reply: one was interested but had to decline because he, too, was homebound the next day (
pa-iligan pa talaga, syet, nainggit ako!
); and two expressed they wanted to go. i don't know about the other two. jen's friends couldn't come with us. given the short notice and vague itinerary, that's not so bad.
so who went, after all?
us...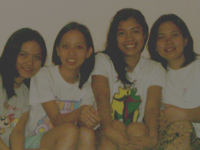 that's me, yoni a.k.a. the geeemail, jen and lorie
i'm sorry, i'm currently too lazy to go on editing the pics that go with this post. anyway, that picture above was taken inside a cozy room in victoria, laguna. how we got there is definitely part of the story!
when we arrived at calamba at around 10pm, we found out from male strangers that the spring resort we were going to was already closed down due to bankruptcy. since we haven't really thought of that possibility prior to arriving there, that left us with no fallback. that also left our thinking temporarily clouded. to make matters worse, the strangers swarmed around us like flies. sounding like drunkards shouting bets, they kept on saying that we should go to this other spring resort were we can stay safely for the night. with what they were doing, they felt they were trying to help; with how they were acting, we felt they represented danger.
with no guy among us and knowing that only jen has proper self defense training, i knew it would be difficult for us to stand a chance if worse came to worst. i reminded jen that we were outnumbered. all four of us knew that we needed to get out of that situation fast. in order to get away from the annoying "advertising" beings, we rode on a passenger jeepney that would take us to los baños. unfortunately, the strangers didn't hear us when we said we were going to LB, and they took a ride on the jeepney with us, all of them not even taking a seat inside the rather empty vehicle so they wouldn't have to pay... grrrr... we had no clear plan what to do next, but riding on the jeepney was definitely better than standing out there in the dark side of the highway with them annoying people. as luck would have it, we saw a silver lining...and it was right there even way before we alighted the bus that took us to laguna.
jen's childhood friend, her kuya jason, was on the same bus. he was bound for home, we were bound for adventure. when our adventure took a rather disturbing turn, jen's kuya jason was kind to help us out. we bade him goodbye when we got out of the bus in calamba, and we soon said hello to him again when he met us in los baños, where he got out of the bus after learning of our plight. we were already scared shitless (well maybe not really scared shitless, but still scared. so, going to other spring resorts never became an option that night). kuya jason took us with him to their home in victoria, laguna. he was really kind. he even paid for our fare, for christmas' sake
daw
,
dyahe talaga
, i felt like a halfwit. his family's accommodating and really hospitable, too, considering that we arrived there without proper notice. (with "his family", i mean the entire clan...as in,
sila na jud
, hehehe.)
...and that explains why we were able to spend the night in a cozy bedroom with an equally cozy bathroom without shelling out any of our pesos. we had food, too!!! from espasol, to calamay, to breakfast with hotdogs, fried fish, red eggs, and rice -- all yummy. not only that, their house is very near the big lake! ahahaha...
ang swerte nga naman
...

the shadow of four cast on the lake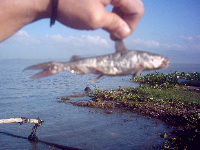 the baby shark from the big lake
well, actually, it's not a baby shark. we just called it baby shark, because kuya jason, whose hand appears in the pic, said it looks like a baby shark.
the lake, which looks like a sea due to its vastness, is home to many snakes. here, kuya jason is holding a small one. the snakes bite but their bites are not venomous enough to kill, just enough to make the victim feverish. still, venomous or not, snakes are snakes! ...and that explains why i'm almost hiding in the pic. ha ha ha!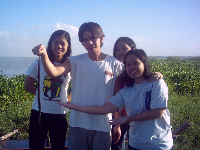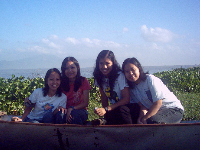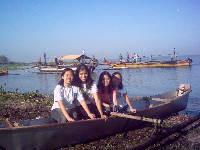 the place is really beautiful, that's why our backgrounds look postcard-perfect. thank God,
napadpad kami dito
!!!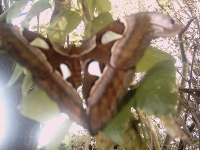 and a monarch butterfly!
after thanking our hosts for their kindness and hospitality, we left victoria with a bounty of yummy espasol to go on with our trekking plan in los baños. we arrived in LB at around 9am and immediately started hiking after we got out of the jeepney. the path leading to the mudspring was gently sloping, so the climb wasn't really that difficult. we sang songs in between talks and laughs while walking, and i took pictures from time to time.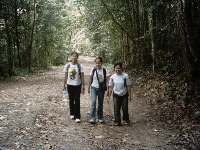 my hike buddies: jen, yoni, lorie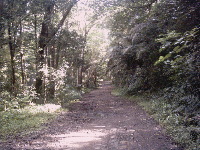 just a short stretch of the path that took us to the mudspring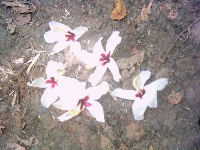 you have to love this. at first i thought the flowers we saw on the path were orchids, it turned out they were gumamelas (
hibiscus
). with the way they were scattered on the ground, it looked like they fell down straight from the sky. ahhh, but for this picture, we deliberately arranged them that way, hehehe!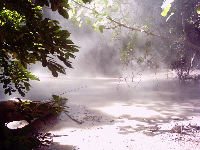 and this is the reason why we came...the mudspring!
see the smoke? it's hot and acidic, and it definitely smells sulfuric! on the other side (not shown in the pic) of the mudspring is the
blok-blok
. the four of us called it
blok-blok
because it's the distinct sound the smelly mud makes.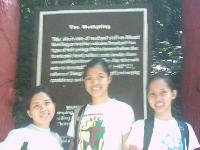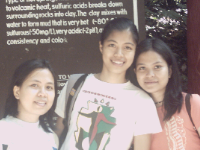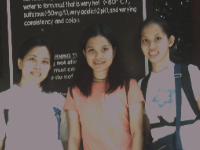 the marker behind us says,
"This site is one of the mud pots left on Mount Makiling, an inactive volcano. A mud pot is a type of hot springs that is formed when due to volcanic heat, sulfuric acids break down surrounding rock into clay. The clay mixes with water to form mud that is very hot (~80 degrees C), sulfurous (~50mg/L), acidic (~2 pH), and varying consistency and color."
all in all, we must have walked 10 kilometers in going to and back from the mudspring. we didn't run out of breath, but we sure did get really tired legs after 5 hours of walking.
ayyyy, wait. i almost ran out of breath, but not because of the long walk. an unhealthy dog kept on following us while we were on our way, and my "dog-phobia" made my heart beat way too fast than normal, thereby draining my energy. i even absent-mindedly dropped my digital camera at some point. it was a good thing, yoni saw the cam lying on the path after it left my hand.
ang
phobia
nga naman
...!
muntik pang mabiktima pati
cam
ko
, grabe na.
p.s.
the best adventures are those that are not planned.
i would love to go up mt. makiling again, and the next target would definitely be peak 2! next time. next time... and wherever peak 1 is, if i get the chance,
hindi ko aatrasan
!