In the sweetness of friendship
let there be laughter, and sharing of pleasures.
--Kahlil Gibran
the past weeks have been somewhat too gruelling for my ultra-thin frame. murphy's law played tricks and labwork became too stressful. it's just a good thing that i've managed to keep my weekends for myself, my friends and family -- weekends are silver linings... and last weekend was a wowow weekend.
LAGUNA & FRIDAY NIGHT
i travelled to laguna last friday night with my labmates-slash-friends. we were supposed to watch a movie in cubao's gateway, but we changed our plan at the last minute because we found a more exciting thing to do...
at around 9:30pm, raph, jen, lorie, jess, hazel and i found ourselves merrily walking along the paths of a subdivision in cabuyao. we were there to take breaths of country air, to enjoy the star-lit sky, and, most of all, to attend the birthday celebration of our former labmate jo.

the laguna friday trip buddies: raph, jen and lorie...
jess and hazel are not in the pics
jo fed us with her party food, attempted to intoxicate us with mudslide, entertained us with
the incredibles
and several dvd runs of
F.R.I.E.N.D.S.
and conversations. it was after several shots of mudslide and already around 12pm when we decided it was time to head back to diliman.
as we made our way out of the subdivision, we appreciated how the late night breeze in cabuyao and the chirping insects reminded us of the comfort of our respective homes. we left cabuyao feeling glad and took a jeepney ride for pacita, laguna. in pacita, we took another jeepney for alabang. in alabang, we boarded a bus bound for cubao. lorie got off in pasig while the rest of us got off in cubao, where we boarded a bus bound for philcoa. (are you still with me? whew!) at around 2am, i finally found myself back in the dorm.
sure, the trip to and fro laguna was tiring... but it was quality time with good friends and we had fun!
YELLOW CAB & BISDAK SATURDAY
after capping a long, fun-filled friday night with needed sleep, i woke up looking forward to
jory
's promise of yellow cab saturday lunch...
and a filling yellow cab saturday lunch for manila-based
bisaya bloggers
and friends, it was!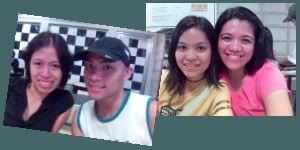 yellow cab saturday crowd: sealdz, jory, val and bhevs
we've only been friends for a couple of months but it seems as if we've known each other for, as i've said in
a previous post
, 50 years! the sunday before (i.e. july 24), we got together. we had tons of laughter as we went on a food trip in the gateway area. although we gobbled up a lot that day, i'm convinced now that we really didn't get enough of
that food trip
...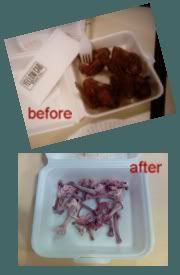 by saturday lunchtime, we did a very noble thing in st. francis square's yellow cab place: we gave good justice to the deaths of chickens, the wings of which appear on the 'before' photo.
how? by eating the hot wings with gusto!
in her blog, bhevs said we attacked the wings like falcons. i'd say, we devoured them like vultures would!
after 30 seconds (exaggerated estimate, of course) of slurrrp, slurrrp, nibble, nibble, pinch, pinch and yum, yum, all that's left of the hot wings are the bones which appear on the 'after' photo -- proof that we made sure that the chickens didn't die in vain. nyahahaha!!!
since chowing down the chicken wings to bone pieces in record time was not enough to make us 'officially
busog
', we proceeded to doing a bigger cause: attacking the pizza... oh, the defenseless pizza!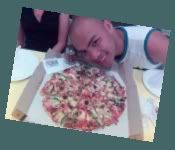 the pizza and the sponsor
INTRAMUROS & SUNDAY AFTERNOON
i was sitting idly in front of the computer, playing my newly acquired copy of
imelda
when my friend naoms informed me via sms that the rest of the
p6peeps in metro manila
were waiting for us in the dorm lobby...
it was already late in the afternoon, i was tired, and watching imelda was already cracking me up... but friends are friends and they matter -- the computer had to be ignored. so, i hauled myself out of my room and joined the p6peeps at the dorm's reception area. we happily played ping pong for sometime and then... poof! just like that. we decided to go to intramuros. la... la... la... thanks to my blabber mouth for voicing out the idea.
we had no map with us. we got there by merely counting on our internal radars because we were keen on exploring the city the p6peeps way -- relying on spontaneity and just dealing with whatever it brings.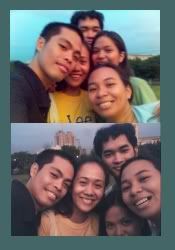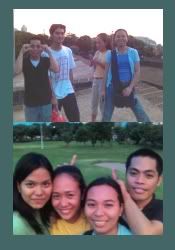 we climbed up the wall and walked around, took pictures, observed the cobblestones, admired and criticized the architectural designs, and enjoyed the sights and sounds in the old walled city. of course, we took pictures of ourselves.
kami pa!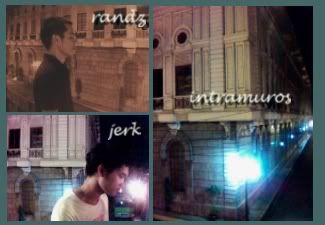 i was interested with the thought of going inside the churches, particularly the san agustin church because it (along with its staircase) was mentioned several times in neal stephenson's
cryptonomicon
. it was high time, i had to satisfy my curiosity and see things for myself. unfortunately, the churches were closed... on a sunday. tsk. tsk. tsk.
my eagerness to visit the churches prompted my friend jerk to joke,
'ngano diay? ana na jud kadako imong sala?'
(why? is your sin that grave now?). hahaha!!!
after getting tired legs from walking around the old city, we took an ultra-short jeepney ride and walked some more until we found ourselves gawking at the people comfortably lying on the grassy areas of rizal park. we were amused at the rather suggestive lying positions of some of the lovers there. out of curiosity, we explored the span of land across the park before we finally gave in to the demands of our a-rumbling tummies. hehehe...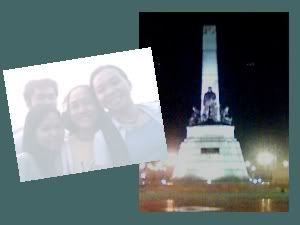 hmmm... friday night, saturday lunch, sunday afternoon... sunday night, too! hmmm... hmmm... friends make life more beautiful! i'm glad and grateful for the company!