hala ka doh. dear diary jud kaayo ni. kung tapulan ka mobasa, ayaw na lang jud basa.
ako na jud sa busy kaayo og kalag (char!). murag all over the place ra kaayo akong drama. niadtong miaging biyernes, gikan diliman, nakaabot kog bicutan, taguig ako ra isa. naa koy gilakad nga butang nga naa jud tawon kalambigitan sa akong kaugmaon. hinuon, dili man to nako first time moadto didto nga ako ra isa. bisan talawan kaayo ko ug grabe akong pagka-talakitoks (kung motukar), maayo man ko maglaroy-laroy nga walay kuyog. ako pah! tapos from bicutan, nibalik kog diliman to attend to my duties (pagkabam!). boring? wala pa ko nahuman, okay. relaks lang bay. nanukad pa lang ko...
adtong done na ko sa akong duties for the day and medyo pangitngit na, nibiya na pud kog diliman ug akong gidala akong self didto sa shangri-la plaza sa mandaluyong. niadto ko didto kay naa didto naghulat akong gwapa nga amiga ug tulo mi kabuok nag-abot didto kay bisitaon namo among cook nga nagsakit. sosyal among cook (dili jud basta basta kay naa gud syay foreign accent, valedictorian pa jud sa high school). busa adtong nagsakit siya, nagpa-admit jud siya didto sa hotel... este... sa medical city. kami na jud sa akong mga gwapa nga amiga sa mga mobisita kay wala jud mi nagdalidali. nag-kaon-kaon, nag-tabi-tabi ug nag-lakaw-lakaw pa mi sa may pasig before mi nakasakay og taxi padulong sa medical city a.k.a. hotel nga hospital. okey ra biya among cook, dengue ra man iyang sakit (aaaay! medyo kulba pud biya diay) pero kelangan lang jud niyag moral support (charrus!) and show of concern from her trusted friends (ahem ahem).
after sa among hospital-slash-hotel visit and after nakakaon kog persimmon (ha, dili na jud ko igno og persimmon kay katilaw na jud ko!), nangadto mi sa akong mga gwapa nga amiga sa watering hole didto sa shangri-la, mandaluyong for another all-girls night out (kami na jud!). nalingaw mi sa among gipang-order na san mig light and tequila sunrise. hehehe, mura mig kinsang mga korek. adtong napul-an nami didto sa watering hole (kay nahurot na among mga gipang-order), nangadto mi sa malate. wait! wala mi nag-malate para magpadayon og inom or what, nangadto mi didto para matulog didto sa condo unit sa akong amiga. hapit one o'clock mi naka-abot sa malate pero sa sobraan namo katabian, alas-tres sa kadlawon nami nakatulog. kami na jud sa mga daghan ikapagarpar, bahalag makulangan og tulog basta makatabi lang. kay mga tabian lagi! ana jud tingali pag puro bisaya mag-abot. pagkabuntag, nanguli nami sa among tagsa tagsa ka ginasak-an. taymsa ha, dili pa end of story. dili pah. ingon biya ko nga taas ni...
so, di ba, from malate nibalik kog diliman (to attend to my duties again, charrus). tapos, pagkahapon kay nagkuyog mi ni volcano padulong sa gateway didto sa cubao para makigkita sa among kaubang bisdak nga si jory. ang plano man jud adto kay magkitakita ang mga manila-based
bisaya bloggers
pero kay kami ra man ang ever-present sa mga
kitakits
, kami rang tulo ang nag-abot. nag-
food trip
na sab mi!
among first stop (after checking out digital cameras on display in gateway) kay ang hotshots sa araneta area; nanglibre si jory og burgers and fries. tungod kay pare-pareho man ming mga hayok sa camera ug mahilig magpicture-picture, gikuhaan jud namog hulagway among gi-order ug ang among mga selves. kay kailangan jud lagi i-document ang laag...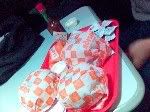 from hotshots, niadto mi sa nearby ice monster and ordered three cups of our chosen flavors. lingaw kaayo mi sa among gibuhat. samot pa ming ka-happy adtong na-realize namong tulo nga pare-pareho diay mig dream destination dire sa pilipinas: batanes!
over cups of ice treats, we became instant future-batanes-trip-buddies. amo jud giplano kung kanus-a mi mangadto up north. among aim kay at the age of 23, dapat makatunob na jud mi sa batanes. abi jud nako nga ako ray excited kaayo mag-batanes. juice mio, mas excited ang jory! gusto niya insigida, "now na!", ora mismo manglupad naming tulo pa-batanes. unsaon?! pero siyempre, kelangan pugngan ang excitement sa bata, kay unsaon na lang, di ba?
from ice monster, ningsulod mig balik sa gateway para i-check ang screening sked sa mga salida kay basin diay maengganyo ming manan-aw og sine (pagka--- na lang jud namo!). medyo wala man mi na-excite sa mga salida nga showing kay kita naman mi sa latest harry potpot starring the visually yummy cedric diggory and the stunning viktor krum, so ning-proceed mi sa next item sa among itinerary (ehehehe, itinerary sa among hunahuna ra gud) --- tan-aw og concert didto sa may e. rodriguez! take note ha, nag-change mig venue... from gateway, ningsakay mig taxi para padulong didto sa e. rodriguez to watch a free concert.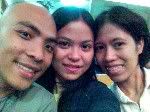 samtang nagbiyahe mi padulong e. rodriguez, gikanta jud namo ang 'most requested song' in visayas and mindanao... ang 'people stay'! syempre, pare-pareho ming bisdak nga nagdako sa northern part of mindanao, so kabisado jud namo ang tono sa kanta... hahahah
people stay in cagayan, cagayan park view hotel...
in the middle of the city, you'll sleep like a baby...
i like to stay in cagayan... park view hotel!!!
aaaaay, naa pud diay mi trip nga bag-ong kanta nakuha from the concert, ang maka-LSS nga 'dzyey'.
dzyey don't know that i come running home when i fall down...
dzyey don't know who picks me up when no one is around...
hahaha, grabeng yaga-yaga. after sa concert, wala mi kabalo kung unsa among sunod buhaton. half-hearted mi mouli, half-hearted sab mi magpadayon og laag kay hapit naman to alas-onse. sa among pagkawalay klaro, nakabalik na lang mig gateway, wala pa mi ka-decide kung unsa ba jud. ningsulod mig 7eleven. naghinanggatay mi nga mangaon na sab, pero pare-pareho ra sab ming nangdecline. naghinanggatay sab mig inom, pero pare-pareho ra sab ming nibalibad. mag-greenbelt daw aron change na pud og venue, pero wala ra pud nadayon. kami na jud sa mga wala kasabot sa among mga gusto. so, nagdecide na lang mi nga manguli. 'okey, manguli na ta. manguli na jud ta' but noooooooooooooooo....
nakakita mig pagkaon sa bread talk og nakakita sab mig starbucks, so nakalimot na hinuon mi nga manguli na diay mi. ang ending, instead na mangatang na unta mig sakyanan pauli, nisulod mig starbucks, nag-order og 2 cups of frappucino and 1 cup of tea tapos niadto mi sa bread talk aron mokaon og higante nga pan.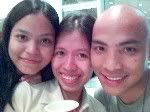 pag pare-parehong mga laagan og tabian jud lagi nga mga bisdak ang mag-uban... lingaw to the max jud!
still photos from the making of 'handumanan sa usa ka awit' the movie
featuring the song 'people stay' (with 'dzyey' as bonus track), hahaha
pagka-ugma, wala pa mi sumhi og lakaw-lakaw, nag-abot na sab ming tulo! mura pud mig wala pa sumhi sa among mga dagway, sige lang mig kitakita. nangadto mi sa warehouse sale sa national bookstore ug nagkugi jud tawon mig pangukay sa mga kalibrohan didto sa pioneer st., mandaluyong. (kay mga book-lovers lagi!!!) tapos, bisan sobraan na mi kakapoy sa among kabuang, gipahimuslan jud namo ang mrt og lrt 3 kay libre man ang rides. from boni station, niadto mig cubao station para motunob sa AMOANG gateway ug magpakabusog (kaon na sab!), tapos sakay sa lrt 3 aka purple line aron monaog sa gilmore. grabe na. kami na jud sa mga nangitag lingaw. pati railway transpo gi-trip-an!
adtong monday kay holiday man, so niadto kog alabang aron manimpalad ug mag-invest sa future sa pilipinas (ahem ahem, walay moangal, maabilidad biya ko). tapos kagabii kay nakaabot kog san pedro, laguna kay ningkuyog ko sa akong amahan para bisitaon iyang cute nga apo nga cute nako nga pag-umangkon. from laguna, nibyahe mi pabalik metro manila ug natulog mi sa makati, tapos kaganinang buntag nibalik na sab ko sa diliman.
lakawana jud nako oi. ako na jud! in fairness, wala pa pud baya ko nalipong. hala ka, ugma kay weekend na sab...